ESNS ARCHIVES 1986 - 2023
The first Noorderslag festival was organized in 1986 as a friendly competition between Dutch and Belgian bands. No need to mention the the Dutch bands won by a landslide :-). In 1987 the "competition" was between bands from the north of the Netherlands against the rest of the country. After a hiatus in 1989 Noorderslag was back in 1990 to stay and has become an institute in The Netherlands. It's hard to find a Dutch band that matters which hasn't played the Noorderslag. The first time the festival was featured on the internet was in 1996.
Navigate through all editions in the orange box above.
Pré-web editions: 1986 - 1995
Web editions: 1996 - 2023
---
Het eerste Noorderslagfestival werd in 1986 gehouden, als een vrolijke wedstrijd tussen Nederlandse en Belgische bands, waarbij de Nederlanders natuurlijk glansrijk wonnen :-).
In 1987 traden vele Groningse en Friese bands op, en deze namen het op tegen de 'rest van Nederland'.
In 1989 werd geen Noorderslagfestival gehouden omdat de Oosterpoort reeds bezet was door Eurorock, maar in 1990 was het weer raak, en sindsdien in Noorderslag niet meer weg te denken uit de nederlandse muziekwereld.
Helaas bestond in 1986 nog geen WWW en de eerste internetsite voor het Noorderslagfestival werd tien jaar later, in 1995, van de grond getild.
Pré-web edities: 1986 - 1995
Web edities: 1996 - 2023
left till the next ESNS edition!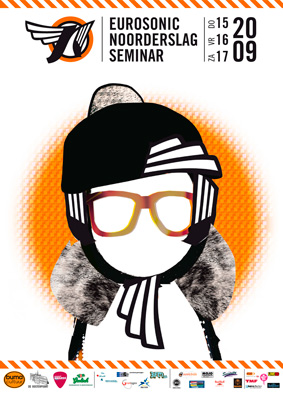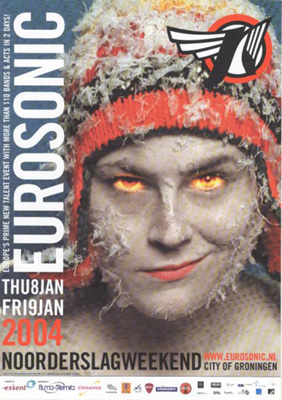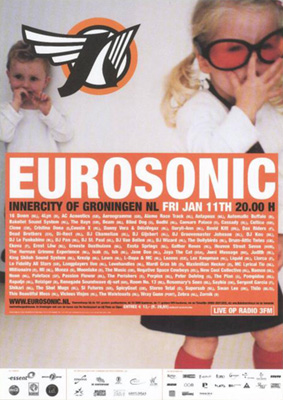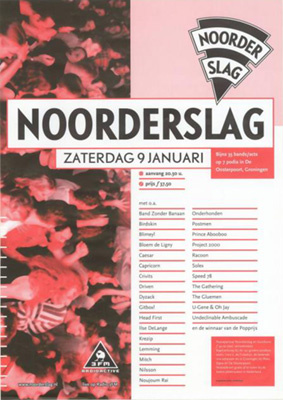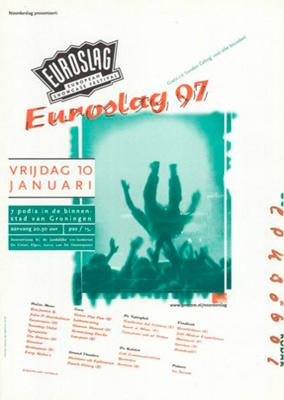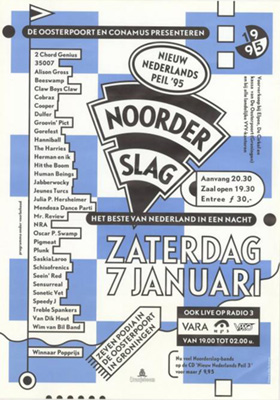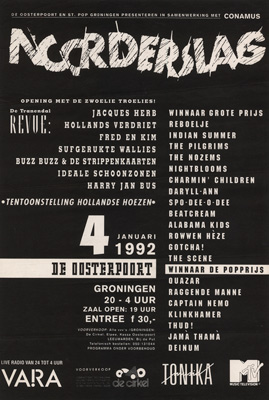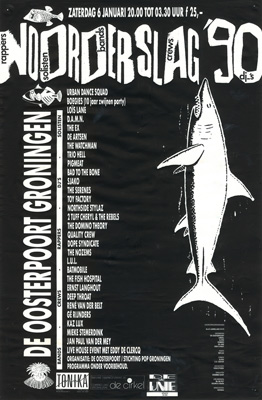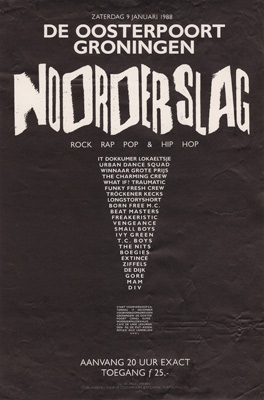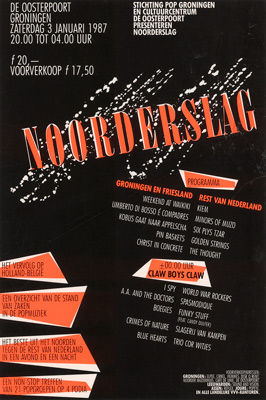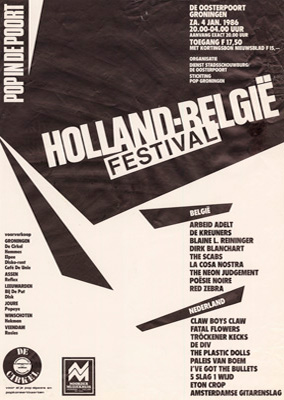 Popprijs
2022 - Goldband
2021 - DI-RECT
2020 - not awarded due to Covid
2019 - Floor Jansen
2018 - Ronnie Flex
2017 - Kensington
2016 - Martin Garrix
2015 - New Wave
2014 - The Common Linnets
2013 - The Opposites
2012 - Racoon
2011 - De Jeugd van Tegenwoordig
2010 - Caro Emerald
2009 - Kyteman
2008 - De Dijk
2007 - Armin van Buuren
2006 - Spinvis
2005 - Within Temptation
2004 - Ali B
2003 - BLØF
2002 - Tiësto
2001 - Anouk
2000 - Arling & Cameron
1999 - Postmen
1998 - Junkie XL
1997 - Marco Borsato
1996 - Eboman
1995 - Osdorp Posse
1994 - 2 Unlimited
1993 - Bettie Serveert
1992 - The Scene
1991 - The Ex
1990 - Urban Dance Squad
1989 - Herman Brood
1988 - Claw Boys Claw
1987 - The Nits
1986 - Mathilde Santing
Contact
Stichting Noorderslag
Trompsingel 27
9724 DA Groningen
Postbus 566
9700 AN Groningen
tel +31 (0)50 3680 244
fax +31 (0)50 3680 246
e-mail info@esns.nl
website www.esns.nl
e-mail info@iprecom.nl
last update: 23.01.2023