ESNS ARCHIVES 1986 - 2019
[ English ]
The first Noorderslag festival was organized in 1986 as a friendly competition between Dutch and Belgian bands. No need to mention the the Dutch bands won by a landslide :-). In 1987 the "competition" was between bands from the north of the Netherlands against the rest of the country. After a hiatus in 1989 Noorderslag was back in 1990 to stay and has become an institute in The Netherlands. It's hard to find a Dutch band that matters which hasn't played the Noorderslag. The first time the festival was featured on the internet was in 1996.
Navigate through all editions below or get that scrollbar!
Pré-web editions:
1986 1987 1988 1989 1990 1991 1992 1993 1994 1995
Web editions:
1996 1997 1998 1999 2000 2001 2002 2003 2004 2005 2006 2007 2008
Unfortunately, no more websites exist from the editions from 2009 to 2018. Only the most recent edition is online at esns.nl or search for acts in our archive here.
2009 2010 2011 2012 2013 2014 2015 2016 2017 2018 2019
---
[ Nederlands ]
Het eerste Noorderslagfestival werd in 1986 gehouden, als een vrolijke wedstrijd tussen Nederlandse en Belgische bands, waarbij de Nederlanders natuurlijk glansrijk wonnen :-).
In 1987 traden vele Groningse en Friese bands op, en deze namen het op tegen de 'rest van Nederland'.
In 1989 werd geen Noorderslagfestival gehouden omdat de Oosterpoort reeds bezet was door Eurorock, maar in 1990 was het weer raak, en sindsdien in Noorderslag niet meer weg te denken uit de nederlandse muziekwereld.
Helaas bestond in 1986 nog geen WWW en de eerste internetsite voor het Noorderslagfestival werd tien jaar later, in 1995, van de grond getild.
Kies hieronder een jaartal of pak die scrollbar!
Pré-web edities:
1986 1987 1988 1989 1990 1991 1992 1993 1994 1995
Web edities:
1996 1997 1998 1999 2000 2001 2002 2003 2004 2005 2006 2007 2008
Van de edities vanaf 2009 tot 2018 bestaan helaas geen websites meer. Alleen de meest recente editie staat online op esns.nl of zoek voor acts in ons archief hier.
2009 2010 2011 2012 2013 2014 2015 2016 2017 2018 2019
---
PRE-WEB EDITIONS:
1986
5 Slag 1 Wijd
Amsterdamse Gitarenslag
Arbeid Adelt
Blaine L. Reiniger
Claw Boys Claw
De Div
De Kreuners
Dirk Blanchart
Eton Crop
Fatal Flowers
I've Got The Bullets
La Cosa Nostra
Paleis van Boem
Poësie Noire
Red Zebra
The Neon Judgement
The Plastic Dolls
The Scabs
Tröckener Kecks
---
1987
AA & The Doctors
Boegies
Candy Dulfer & Funky Stuff
Christ in Concrete
Claw Boys Claw
Crimes of Nature
Golden Stringsv
I Spy
Kiem
Kobus gaat naar Appelscha
Minors of Muzo
Pin Baskets
Six Plys Tzar
Slagerij van Kampen
Spasmodique
The Thought
Umberto Di Bosso
Weekend at Waikiki
World War Rockers
---
1988
Beatmasters
Boegies
Bornfree MC
De Dijk
Extince
Freakeristic
Funky Fresh Crew
It Dockumer Lokaeltsje
Ivy Green
Longstoryshort
Mam
Moonrunners
Muziekvereniging Ons Genoegen
Small Boys
TC Boys
The Charming Crewv
The Hippies
The Nits
The Riff
Tröckener Kecks
Urban Dance Squad
Vengeance
What if? Traumatic
Ziffels
---
1989
In 1989 was er geen Noorderslag Festival maar een festival met Europese bands.
---
1990
2 Tuff Cheryl & Rebels
Bad To The Bone
Batmobile
Boegies
D.A.M.N.
De Artsen
Deep Throat
Dope Syndicate Productions
Ernst Langhout
Fish Hospital
Gè Reinders
Jan Paul van der Mey
Kaz Lux
Loïs Lane
Lul
Mieke Stemerdink
Pigmeat
Quality Crew
Renè van der Belt
Sjako!
The Ex
The Nozems
The Serenes
The Northside Stylaz
The Domino Theory
The Watchman
Toy Factory
Trio Hell
Urban Dance Squad
---
1991
24 K
2000 and One
Arthur Ebeling & Peer Wassenaar
B.Y.O.B.
Blue Guitars
Claw Boys Claw
Da Juice
East Meets West
Eton Crop
Fierce Rulling Diva
Force of Power
Frèdèrique Spigt & Jan van der Mey
Funky Tribe
Gert Jonkers & The Lost Sons
Gung-Ho
Hallo Venray
Hans Ter Burg
Jan Rot
La Lupa
Loveslug
Moonlizards
Paradogs
Raggende Manne
Richard Cameron
Rump!
Snake Charming & The Western World
Spock, Ross Curry, G. de Giant, Tres Manos & Magic Stick
Spo-Dee-O-Dee
Surkus
The Jack of Hearts
The Serenes
Tree Funk Concept
Tröckener Kecks
Weekend Warriors
---
1992
Alabama Kids
Beatcream
Buzz Buzz & de Strippenkaarten
Captain Nemo
Charmin' Children
Daryll-Ann
Deinum
Fred Kienhuis
Gotcha!
Harry Jan Bus
Hollands Verdriet
Ideale Schoonzonen
Indian Summer
Jama Thàma
Jacques Herb
Klinkhamer
Nightblooms
Quazar
Reboelje
Rowwen Hèze
Spo-Dee-O-Dee
Sufgerukte Wallies
Super & The Allstars
The Ex
The Nozems
The Pilgrims
The Scene
Thud!
---
1993
Bettie Serveert
Blue Guitars
Burma Shave
City Pig Unit
Claw Boys Claw
Dandruff!!
DCO
Dog's Aerobics Lobo Probe
Gorefest
Hallo Venray
Jammah Tammah
Kay LC
Kleg
Kong
Les Charmeurs
Loïs Lane
Nerve
Nuclarity
Osdorp Posse
Pater Moeskroen
Soft Parade
The Gathering
The Scene
The Watchman
Ulanbator
---
1994
20 Brothers House
Bettie Serveert
Boh Foi Toch
Bonecrushin'
Chicas Del Rock
Chords
Daryll Ann
De Kift
Dead Head
Hallo Venray
Hipbone Connection
Horn of Plenty
Krontjong Devis
Loveslug
Lul
'Make My Funk The P-Funk
Moonlizards
Nightblooms
Prodigal Sons
Rub-a-Dub-Dub
S.O. Jazz
SFEQ
Shine
Sjako!
The Ace-Tones
The Apemen
The Beavers
The Firebirds
The Kliek
The Perverts
The Serenes
Tupelo Honey
Ygdrassil
---
1995
2 Chord Genius
2 Unlimited
35007
Alison Gross
Beeswamp
Claw Boys Claw
Cobraz
Cooper
Dulfer
Gorefest
Groovin' Pict
Hanniball
Herman en Ik
Hit the Boom
Human Beings
Jabberwocky
Jeunes Turcs
Julia P. Hersheimer
Mendoza Dance Parti
Mr. Review
NRA
Oscar P. Swamp
Pigmeat
Plunk
Saskia Laroo
Schizofrenics
Seein' Red
Sensurreal
Sonetic Vet
Speedy J
Static Resonance
The Harries
The Treble Spankers
Van Dikhout
Wim van Bil Band
---
WEB EDITIONS:
1996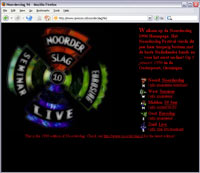 iprecom.nl/noorderslag/96
---
1997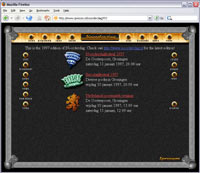 iprecom.nl/noorderslag/97
---
1998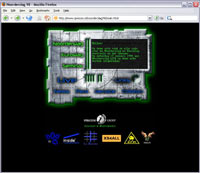 iprecom.nl/noorderslag/98
---
1999
iprecom.nl/noorderslag/99
---
2000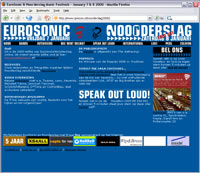 iprecom.nl/noorderslag/2000
---
2001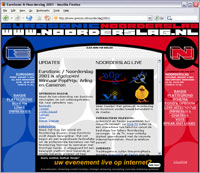 iprecom.nl/noorderslag/2001
---
2002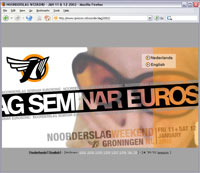 iprecom.nl/noorderslag/2002
---
2003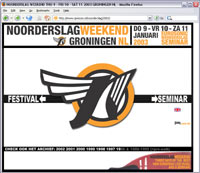 iprecom.nl/noorderslag/2003
---
2004
iprecom.nl/noorderslag/2004
---
2005
iprecom.nl/noorderslag/2005
---
2006
iprecom.nl/noorderslag/2006
---
2007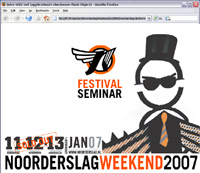 iprecom.nl/noorderslag/2007
---
2008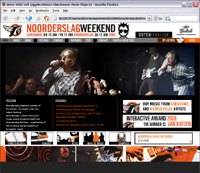 Photo & video impression
---
2009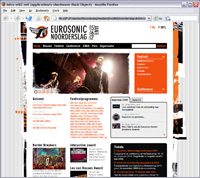 ---
2010
---
2011
---
2012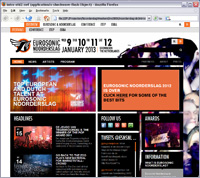 ---
2013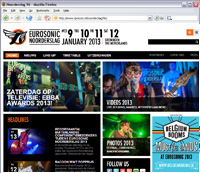 ---
2014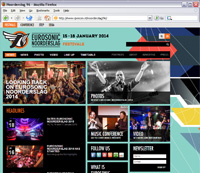 ---
2015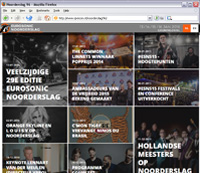 ---
2016
---
2017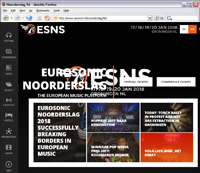 ---
2018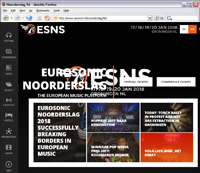 ---
2019